An annual event which brings together academia for active discussions and fruitful interactions on various aspects of Photonics
International School of Photonics, established in 1995, has been conducting Annual Photonics Workshop, a national event which brings together leading scientists, academicians, industrialists and young researchers in the country for active discussions and fruitful interactions on various aspects of Photonics, for last several years. This annual event is conducted in the form of National Photonics Symposium (NPS) from 2017. The aim of NPS is to enlighten the budding scientists to find newer directions for research through active discussions and collaborative research. We hope to provide the best platform for all participants to exchange the latest and advanced research with other specialists and scholars in the field by bring in the best scientists in India and abroad to deliver invited lectures and plenary talks apart from contributed papers. On 28th February, there will be a special session to celebrate National Science Day. In 2021, NPS is conducted as an all virtual International Conference during February 27 to March 01, 2021, to mark the completion of 25 years of International School of Photonics.

Best Paper Awards
OP 05 – Temperature Dependent Luminescence Study on CMS:Eu Phosphor – Navya Sara Kuriyan
OP 15 – Efficient Triangular Pulse Generation in Typically Designed Silicon on Insulator (SOI) Planar Waveguide – Somen Adhikary
PP 07 – Effect of effusion temperature in the deposition of two dimensional MoS2 by radio frequency magnetron sputtering – Cicily Rigi V J
PP 11 – Investigating Magneto-optic Faraday rotation of CoFe2O4-Au colloidal mixture – Lakshmi B
PP 32 – Vibrationally assisted thermographic response of Sr2NaMg2V3O12:Eu 3+ phosphor: A bifunctional platform for Ratiometric thermometry and safety sign – Amritha Krishnan B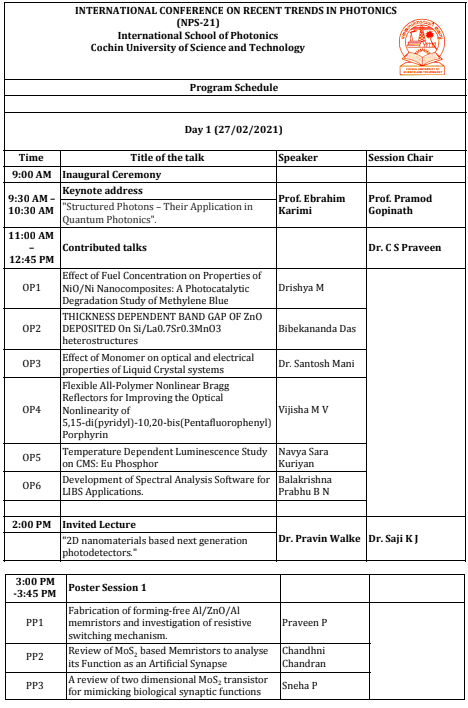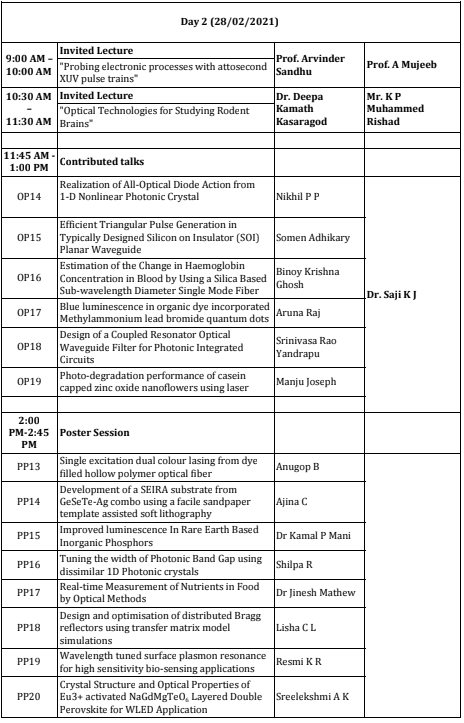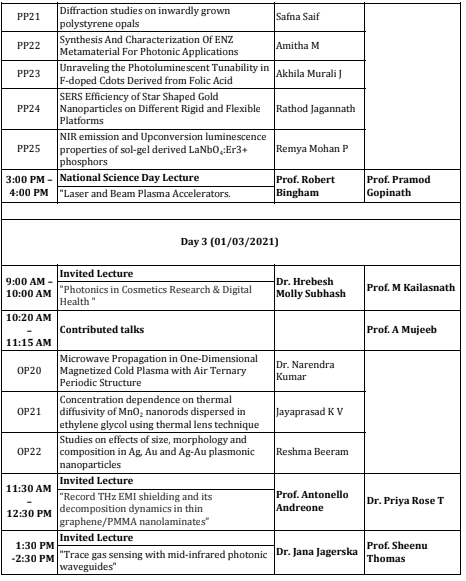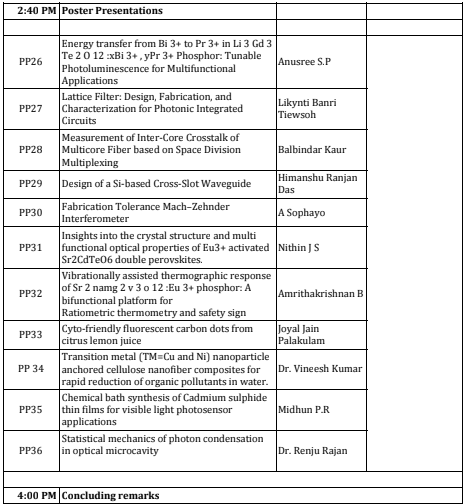 Areas of Interest
Nanophotonics
Plasmonics
Metamaterials
Biophotonics
Nonlinear optics and laser technology
Quantum optics and quantum computing
Optical fibre based devices
Optoelectronic devices
Materials for photonics/optoelectronics
Laser induced plasma
Ultra fast Laser-matter Interactions
Laser assisted fabrication techniques
Laser assisted non destructive testing
Laser Speckle Metrology
THz Science and Technology
Call for Papers
Original research papers are invited for both oral and poster presentation at this International Conference. One page abstract for contributed papers shall be submitted to nps@cusat.ac.in. The best paper award instituted by the post graduate alumni of International School of Photonics will be adjudged by a panel of experts. The award includes a certificate and cash prize. Please visit photonics.cusat.ac.in for the template for the preparation of abstracts and other details.
List of Speakers
Prof. Robert Bingham – Science and Technology Facility Council, RAL, CLF, UK
Prof. Antonello Andreone – University of Naples "Federico II", Italy
Prof. Ebrahim Karimi – University of Ottawa, Canada
Prof. Arvinder Sandhu – University of Arizona, USA
Dr. Jana Jágerská – The Arctic University of Norway, Norway
Dr. Pravin Walke – University of Mumbai, India
Dr. Deepa Kamath Kasaragod- Hiroshima University, Japan
Dr. Hrebesh M S – Colgate-Palmolive Company, USA
Important Dates
| | |
| --- | --- |
| Submission of Abstracts | – February 18, 2021 |
| Notification of Acceptance | – February 20, 2021 |
| Submission of Full Papers | – February 22, 2021 |
| Last date for Registration | – February 24, 2021 |
| Conference dates | – February 27 – March 01, 2021 |
Mode of Payment
Payment can only be done though online transfer.
Account Number: 67394253625
Account Name: National Photonics Symposium
IFSC Code: SBIN0070235
State Bank of India
CUSAT Campus Branch,
Kochi-22
Registration Fees
Students – INR 200 + 18% GST
Professionals – INR 300 + 18% GST
Contact Us
Dr. Pramod Gopinath (Chairman, NPS-2021) and Dr. Priya Rose T (Convener, NPS -2021)
Email: nps@cusat.ac.in
Supported by:
Photonics Society of India (PSI)
OSA & SPIE Student Chapters
University Grants Commission (UGC)
Every year, NPS is conducted during the last week of February. The venue of the symposium will be International School of Photonics, Cochin University of Science and Technology, Kochi, Kerala, INDIA

Please visit this site for latest updates on NPS